One-to-One Portfolio Management
Everyone is different, everyone is unique, and so is everyone's financial situation.  Having one-to-one contact with your own personal financial advisor is critical to successful portfolio management.
Large financial advisory firms have many clients and those clients are often shuffled from advisor to advisor as people come and go and change departments over the years.  These large companies often have set protocols on what they advise their clients to do with their money.  They handle many accounts and frequently like to put their client's money in only a few investments in order to keep track of everyone. There is less ability to customize a client's financial savings plan.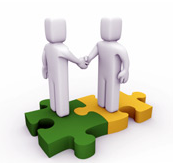 A small financial advisory firm, however, can offer flexibility and personalized service.  You'll often get one-on-one portfolio management from a dedicated advisor.  You'll get to know your financial advisor and establish a long-lasting relationship.  With personalized attention and communication, you can develop trust that your Financial Advisor will make your financial investment success a top priority – for both of you!
Mike Eugenio, owner of Eugenio Financial, has been serving Portland Metro Oregon area for over 25 years.  Mike manages the portfolios of many long-term clients for many years.  He gets to know his clients and fully understands their entire financial picture, as well as goals and objectives.  It's that personalized approach that helps Mike Eugenio provide individualized and focused portfolio management services to each and every one of his clients.  Mike gives the same advice to his clients as he would to his own family.
Would you be interested in considering Michael Eugenio CFP® as your financial advisor?
Mike can tailor your financial plan to your unique financial situation and needs.  He is always available for consultations.  Since Eugenio Financial is a small firm, Mike has the flexibility to meet with you when you need him and can adapt to changes in your financial situation or emergencies.   He also likes to meet with clients several times a year to review financial plans and make any changes when necessary.  Very often, large firms wait for the client to be proactive or question lack of initiative. Mike has the flexibility of independence and works hard for his clients.
Don't just be a number in a large corporation.   Be one of Mike Eugenio's personal clients.  You won't have long hold times on the phone when you need to reach your advisor and you can change your financial plan as needed.  Mike is always available when you face financial challenges and obstacles.
Contact Us to set up an appointment to discuss your financial future with your own personal financial advisor!
https://www.eugeniofinancial.com/wp-content/uploads/2017/01/eugenio-logo5.png
0
0
Michael Eugenio CFP
https://www.eugeniofinancial.com/wp-content/uploads/2017/01/eugenio-logo5.png
Michael Eugenio CFP
2017-08-15 17:44:49
2017-08-21 20:43:30
Portfolio Management: Don't Be Treated Like a Number